How to play
The most basic action in Azkend is to string together similar items on the board. There are two goals in the level: 1) turn the whole board blue 2) lower the talisman part by eliminating items under it. Items can be stringed together by doing the following:
Move mouse pointer over an item which is connected to at least two other similar items.
Click and hold the mouse button.
Move the mouse pointer through all the consequent similar items on the board.
Release the mouse button.
After releasing the mouse button the items will pop out. If there are any non-blue tiles under the items, they will turn blue (in later levels you encounter steel tiles, which need to be turned two times).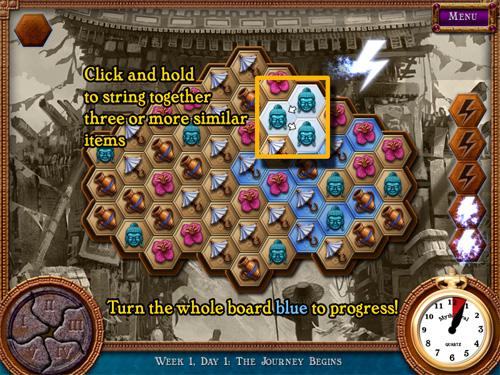 Game modes
Adventure
The relic your archaeological team found in Far Asia was more powerful than you thought. Now your mission is to reach the Temple of Time and return the relic to lift the curse. In the adventure mode you will journey all the way up to the Temple of Time where you must make a difficult decision. The adventure mode is relaxing but there may be some tight spots once in a while.
Survival
In the survival mode you use one of the talismans you have unlocked to survive as long as possible. In this mode levels follow each other quickly and you need to keep ahead the clock as long as you can. Try to reach 10 stars and more!
Special Tiles
On your journey you will also encounter special tiles. The tiles are described below.
| | |
| --- | --- |
| | Frozen: Frozen tiles can not be connected with other tiles. Get rid of frozen tiles by stringing items together next to them. You can also use powerups to destroy the frozen tiles. |
| | Steel: Steel tiles must be turned two times before they are blue. Other than that, they work as normal tiles. |
| | Tar: Tar is tricky, it spreads! Best way to get rid of tar is to string together items next to it as quickly as possible. |
| | Lock: Lock tiles can not be connected with other tiles. Destroy lock tiles by stringing items together next to them. You can also use powerups to destroy the locks. |
Talismans
You earn talisman by completing levels. There are a total of 8 talismans. A talisman consists of five pieces so a new talisman will be completed every five levels. After you have completed all the eight talismans, you start collecting gems on the Relic. You can activate the power of a talisman by stringing together similar talisman items. The more items you string together, the greater the effect will be!
| | |
| --- | --- |
| | Talisman of Power: String together four or more items to unleash a great explosion! |
| | Talisman of Hammer: String together four or more items to summon a powerful hammer! |
| | Talisman of Stars: This talisman summons a powerful hail of meteors to help you! |
| | Talisman of Extinction: Activate this talisman to remove all the talisman tiles from the board! |
| | Talisman of Light: This talisman shoots a ray of light from the last selected item. |
| | Talisman of Thunder: Stringing together four or more produces a Lightning Rune. Fill the lightning meter with runes to summon lightning. Extra runes will be converted to lightning strikes. |
| | Talisman of Chains: Lightning arc zaps multiple random items on board. |
| | Talisman of Avalanche:Destroys all items underneath the activated item. |
Tips
Connect 7 or more tiles to call the Lightning!
Right mouse button cancels the selection process.
Avoid making matches that have only tiles with blue background. It will discharge the Thunder Meter.
Try to have at least one non-blue tile in each selection. It charges up the Thunder Meter.
Remember consider using another Talisman if you're in trouble.
System Requirements
Minimum system requirements for playing Azkend
OS: Windows 2K, XP, Vista
Processor: 700 Mhz
RAM: 128 MB
DirectX 5
OpenGL 1.1 or Direct3D 8.0 recommended for higher graphical detail
Note to Windows Vista users
Please download the newest Windows Vista drivers for your graphics card.
Copyright Notices and Licenses
Lua 5.0 license
Copyright © 1994-2006 Lua.org, PUC-Rio.

Permission is hereby granted, free of charge, to any person obtaining a copy of this software and associated documentation files (the "Software"), to deal in the Software without restriction, including without limitation the rights to use, copy, modify, merge, publish, distribute, sublicense, and/or sell copies of the Software, and to permit persons to whom the Software is furnished to do so, subject to the following conditions:

The above copyright notice and this permission notice shall be included in all copies or substantial portions of the Software.

THE SOFTWARE IS PROVIDED "AS IS", WITHOUT WARRANTY OF ANY KIND, EXPRESS OR IMPLIED, INCLUDING BUT NOT LIMITED TO THE WARRANTIES OF MERCHANTABILITY, FITNESS FOR A PARTICULAR PURPOSE AND NONINFRINGEMENT. IN NO EVENT SHALL THE AUTHORS OR COPYRIGHT HOLDERS BE LIABLE FOR ANY CLAIM, DAMAGES OR OTHER LIABILITY, WHETHER IN AN ACTION OF CONTRACT, TORT OR OTHERWISE, ARISING FROM, OUT OF OR IN CONNECTION WITH THE SOFTWARE OR THE USE OR OTHER DEALINGS IN THE SOFTWARE.

---
Uses Vorbis Audio Decompression Under the Following Terms:
Copyright (c) 2003, Xiph.Org Foundation

Redistribution and use in source and binary forms, with or without modification, are permitted provided that the following conditions are met:

Redistributions of source code must retain the above copyright notice, this list of conditions and the following disclaimer.

Redistributions in binary form must reproduce the above copyright notice, this list of conditions and the following disclaimer in the documentation and/or other materials provided with the distribution.

Neither the name of the Xiph.org Foundation nor the names of its contributors may be used to endorse or promote products derived from this software without specific prior written permission.

THIS SOFTWARE IS PROVIDED BY THE COPYRIGHT HOLDERS AND CONTRIBUTORS "AS IS" AND ANY EXPRESS OR IMPLIED WARRANTIES, INCLUDING, BUT NOT LIMITED TO, THE IMPLIED WARRANTIES OF MERCHANTABILITY AND FITNESS FOR A PARTICULAR PURPOSE ARE DISCLAIMED. IN NO EVENT SHALL THE REGENTS OR CONTRIBUTORS BE LIABLE FOR ANY DIRECT, INDIRECT, INCIDENTAL, SPECIAL, EXEMPLARY, OR CONSEQUENTIAL DAMAGES (INCLUDING, BUT NOT LIMITED TO, PROCUREMENT OF SUBSTITUTE GOODS OR SERVICES; LOSS OF USE, DATA, OR PROFITS; OR BUSINESS INTERRUPTION) HOWEVER CAUSED AND ON ANY THEORY OF LIABILITY, WHETHER IN CONTRACT, STRICT LIABILITY, OR TORT (INCLUDING NEGLIGENCE OR OTHERWISE) ARISING IN ANY WAY OUT OF THE USE OF THIS SOFTWARE, EVEN IF ADVISED OF THE POSSIBILITY OF SUCH DAMAGE.

---
2007 (c) Myth People