Story
It all starts in Crowberry Woods. The darkness is rising. The only thing that can stop it is to be found in these woods. Caught in the middle of all this, the burden has been placed on your shoulders. Your journey starts at the giant Mushrooms.
How to play
The basic goal in Sparkle is to form groups of at least three orbs of the same color. When a group is formed, the orbs disappear. Playing the game is simple: aim with your mouse and press the left mouse button to release an orb. You can switch orbs in the Orb Slinger with the right mouse button. You have to light up the outer ring of the Orb Slinger pedestal to complete a level. In the picture below you can see a situation where the player could shoot the green orb to break a total of five orbs.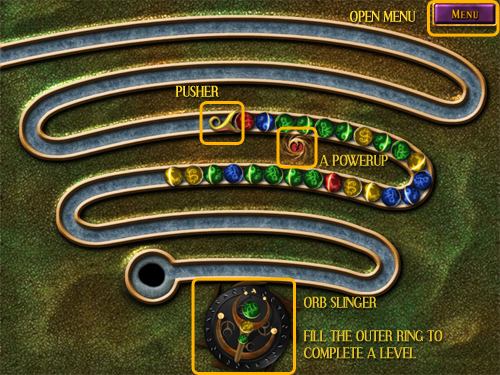 Game modes
Quest
The Quest Mode is the main game mode. You need to complete levels to progress on your journey through Crowberry Woods. You will gain new abilities in the form of amulets.
Challenge
In Challenge Mode you try to be as fast as possible. Each level can be played on four difficulty levels which are: apprentice, journeyman, expert and master. While apprentice may be quite easy and relaxing, the master will challenge even those most devoted to art of playing Sparkle.
Survival
In Survival Mode your task is to survive as long as possible in levels that get more and more difficult by the minute. Use your amulet wisely! There are total of four levels which are called apprentice, journeyman, expert and master. Each level has five phases. You need to survive through all these phases to fully conquer an amulet. You can only play with amulets you have unlocked in the Quest Mode.
Power ups
You can collect powerups by shooting at them. Once hit the powerup activates immediately. You gain powerups by making at least three orb breaking moves in a row.
| | |
| --- | --- |
| | Accuracy: A beam of light will help you aim. |
| | Backwards: When picked up the orbs move backwards. This gives you more time and may provide other advantages also. |
| | Fire Bolts: You are given three powerful bolts of fire which you can aim and shoot at the orbs. Each bolt can shatter one orb. |
| | Color Wipe: This powerful item wipes out all orbs which are the same color as the bonus itself when it is picked up. The color changes over time so if you time your actions right you can wipe out the desired color. |
| | Purple Flame: Ancient magical purple flame will disintegrate orbs. You may shoot it where you wish. |
| | Frost Ray: A ray of freezing coldness will shatter the orbs. You may point it where you wish and fire. |
| | Color Powder: Cloud of colored powder colors the orbs. The color changes over time so be watchful if you want a certain color. Just aim the color powder and fire away. |
| | Rune Reward: When you pick this one up, you will instantly awarded with additional progress in the current level. |
| | Joker Orb: This special orb is all colors at once. After picking it up, just find the right spot and launch. |
| | Marching Light: Decisive rhythmic bringers of light emerge from undeground shattering numerous orbs. |
| | Fireflies: This amazing powerup will summon a swarm of fireflies which will buzz around hitting orbs and changing their colors for your aid! |
| | Slow: When you pick up this power up the orbs slow down giving you more time. |
| | Wrath of Moon: When this powerup is picked up, meteors will rain down from the skies destroying the orbs. |
Amulets
You gain amulets throughout the game. You can select the amulet you wish to use by clicking the amulets button in the map screen and then selecting the desired amulet. The more you play, the more amulets become available.
| | |
| --- | --- |
| | Amulet of Swift: The orbs you shoot fly twice as fast, making hitting your target easier. |
| | Amulet of Orb: You'll get an extra orb slot on your Orb Slinger and your orbs regenerate faster. |
| | Amulet of Attract: Power ups are thrown towards you instead of away from you. |
| | Amulet of Luck: Your luck increases. Random events tend to turn up in your favor more often. |
| | Amulet of Small: Powerful magic shrinks the orbs. They're harder to hit, but move a bit slower. |
| | Amulet of Cutting: Orb strips are half as long, but come in a bit more frequently. |
| | Amulet of Firebolt: For every ten shot orbs that hit you'll get a fire bolt power up. |
| | Amulet of Duality: Power to summon a friend to aid you. (Plug in another mouse to your computer's USB port) |
| | Amulet of Plenty: A power up pops out of the Hole in the ground now and then. |
| | Amulet of Ease: Each time you fail a level, it becomes a bit easier. The effect stays until you pass the level or lose all lives. |
| | Amulet of Simplify: Eliminates one orb color, but the orbs move a lot faster. |
| | Amulet of Ages: Levels are longer, but the orbs move a tad slower. |
| | Amulet of Risk: Levels are much harder, but you gain an extra life each time you complete a level. |
| | Amulet of Victory: The amulet blasts out some orbs when you fill up the Rune Circle. |
| | Amulet of Immortality: You do not lose any lives even if you fail a level. |
Tips and Strategies
Try to order your orbs so that you can easily match three times in a row (chain factors 3, 6, 9 and so on) to get a power up.
You can save your power ups for later use by pressing the right mouse button.
The best spot to grab the power ups is right when they appear. (Notice the opening in the orb strip each time power up emerges!)
If you've got for example two same colored orbs in a row in your Orb Slinger, try double clicking the left mouse button to throw them both fast in a row. You can make matches of more than three-in-a-row very easily this way.
When picking up Slow or Backwards power up, try to concentrate on making the orb strip(s) "easier" to play. Basically this means shooting at spots where there aren't two or more like colored orbs in a row.
Good change to get more power ups is right after you've picked the Fireflies power up. At that time, the orbs are aligned so that matching is easier!
In Expert difficulty mode (will be made available when you complete the game for the first time), try using the Amulet of Immortality to "scout" the level. This way you don't lose precious lives even if you fail! If the level is too difficult, try using another amulet when you've gotten familiar with the board.
Joker Orbs can be a great way to extend your Chain Factor Level. You can shoot anywhere but the ends of the strip and make a match! It's a good way to get rid of two "lone colored" orbs too.
You can finish the level faster by making lots of combos and maintaining high Chain Factor Levels.
System Requirements
Minimum system requirements for playing Sparkle.
OS: Windows 95, Windows 98, Windows Me, Windows 2000, Windows Vista or Windows XP
Processor: Pentium 500MHz
RAM: 64 MB
DirectX 5.0 or higher
Hardware graphics accelerator is highly recommended
Note to Windows Vista users
If the game reports that your computer can not display the game at full visual quality please try to download and update the latest Windows Vista drivers for your graphics card.
Copyright Notices and Licenses
Lua 5.0 license
Copyright © 1994-2006 Lua.org, PUC-Rio.

Permission is hereby granted, free of charge, to any person obtaining a copy of this software and associated documentation files (the "Software"), to deal in the Software without restriction, including without limitation the rights to use, copy, modify, merge, publish, distribute, sublicense, and/or sell copies of the Software, and to permit persons to whom the Software is furnished to do so, subject to the following conditions:

The above copyright notice and this permission notice shall be included in all copies or substantial portions of the Software.

THE SOFTWARE IS PROVIDED "AS IS", WITHOUT WARRANTY OF ANY KIND, EXPRESS OR IMPLIED, INCLUDING BUT NOT LIMITED TO THE WARRANTIES OF MERCHANTABILITY, FITNESS FOR A PARTICULAR PURPOSE AND NONINFRINGEMENT. IN NO EVENT SHALL THE AUTHORS OR COPYRIGHT HOLDERS BE LIABLE FOR ANY CLAIM, DAMAGES OR OTHER LIABILITY, WHETHER IN AN ACTION OF CONTRACT, TORT OR OTHERWISE, ARISING FROM, OUT OF OR IN CONNECTION WITH THE SOFTWARE OR THE USE OR OTHER DEALINGS IN THE SOFTWARE.

---
Uses Vorbis Audio Decompression Under the Following Terms:
Copyright (c) 2003, Xiph.Org Foundation

Redistribution and use in source and binary forms, with or without modification, are permitted provided that the following conditions are met:

Redistributions of source code must retain the above copyright notice, this list of conditions and the following disclaimer.

Redistributions in binary form must reproduce the above copyright notice, this list of conditions and the following disclaimer in the documentation and/or other materials provided with the distribution.

Neither the name of the Xiph.org Foundation nor the names of its contributors may be used to endorse or promote products derived from this software without specific prior written permission.

THIS SOFTWARE IS PROVIDED BY THE COPYRIGHT HOLDERS AND CONTRIBUTORS "AS IS" AND ANY EXPRESS OR IMPLIED WARRANTIES, INCLUDING, BUT NOT LIMITED TO, THE IMPLIED WARRANTIES OF MERCHANTABILITY AND FITNESS FOR A PARTICULAR PURPOSE ARE DISCLAIMED. IN NO EVENT SHALL THE REGENTS OR CONTRIBUTORS BE LIABLE FOR ANY DIRECT, INDIRECT, INCIDENTAL, SPECIAL, EXEMPLARY, OR CONSEQUENTIAL DAMAGES (INCLUDING, BUT NOT LIMITED TO, PROCUREMENT OF SUBSTITUTE GOODS OR SERVICES; LOSS OF USE, DATA, OR PROFITS; OR BUSINESS INTERRUPTION) HOWEVER CAUSED AND ON ANY THEORY OF LIABILITY, WHETHER IN CONTRACT, STRICT LIABILITY, OR TORT (INCLUDING NEGLIGENCE OR OTHERWISE) ARISING IN ANY WAY OUT OF THE USE OF THIS SOFTWARE, EVEN IF ADVISED OF THE POSSIBILITY OF SUCH DAMAGE.

---
2007 (c) Myth People